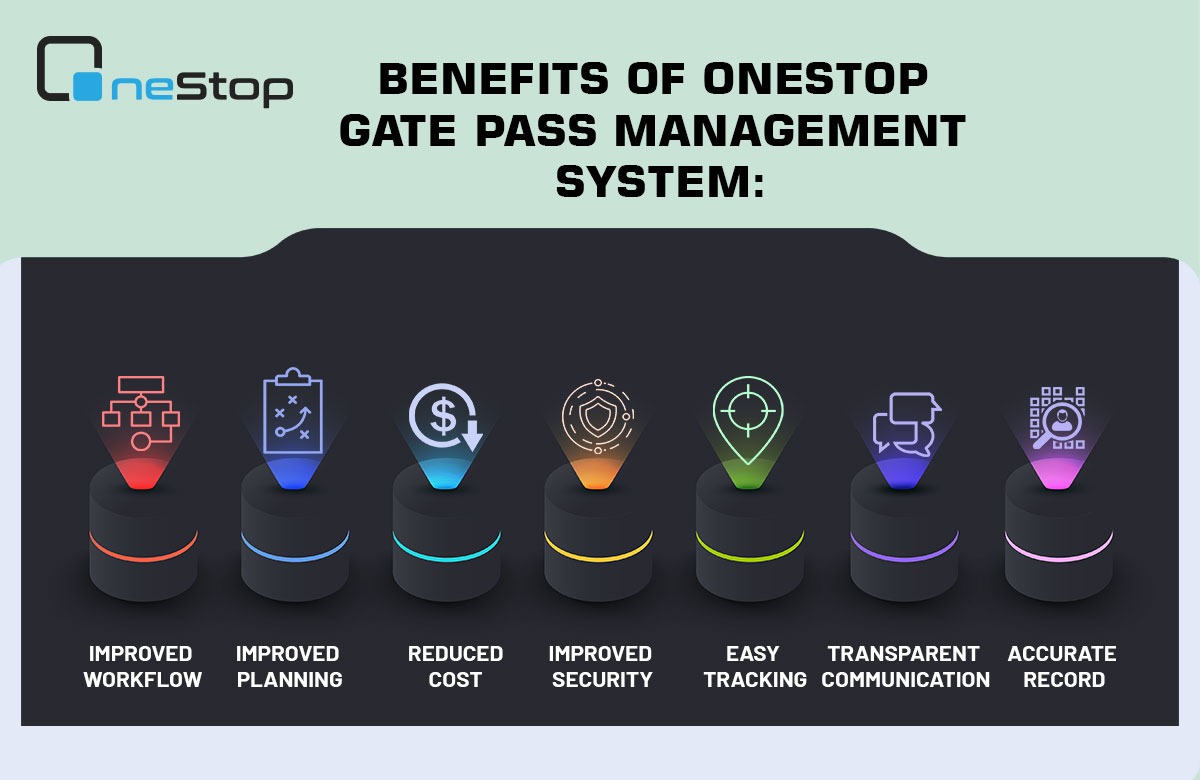 June 24, 2022
Benefits of Cloud Based Gate Pass Management System
Robbery and other such malpractices are common in every organization, which means a lack of security or security breaches. Whereas safety and security should be the prime concern of every business, be it employees, visitors, materials, vehicles, or raw materials. To track record every detail of entry, exit, and purpose of visit, many organizations have started using visitor gate pass management systems but what about materials and vehicle records. We feel, they too are equally important for businesses and an organization should have end to end record for it. So, you can get all these features together in OneStop Cloud Gate Pass Management System.
OneStop Cloud-based Gate Pass Management system is designed for monitoring and maintaining records of the entry and exit of the company vehicles, employees, visitors, and materials. The digital entries in the software track the overall visit of a party to the premises of a certain business. Then the notifications are sent to the concerned department or person and only upon approval permission is granted within the premises.
How Gate Pass Management System Helps in Gate Safety?
OneStop Global gate pass Management system is beneficial for all types of companies, warehouses, hospitals, schools, and many more sectors. It tracks and manages end to end, what comes in and goes out of the premises of your business. The software comes with multiple features like logging of visitor time of arrival and exit, digital check-ins, pre-registration, etc.
The Gate Pass Management System shows visitors, and vehicles information and permits their access to only specific areas.
The system records every minute detail like – Personal details, the purpose of the visit, and to whom the person will meet. Further, the notification is sent to the person/department and it is on them to accept or reject it.
Gate Pass too helps in generating returnable and non-returnable passes. When it is a returnable pass, the gate pass management system makes an entry about the original gate pass transaction so that the record of pending returnable details is easy to procure.
Scheduling: The system helps in scheduling vehicles in an orderly manner to enhance the operational processes of the organization and increases the productivity of the business.
Identification: The visitor management system records visitors' identities with their photographs and saves them for future use.
Monitoring: Gate Pass system does effective monitoring of user traffic and waiting duration and makes all the work for the business easier.
Digital Badges: OneStop Global Gate Pass Management System assigns digital badges to the visitor to keep the identity of each and every visitor unique and to avoid any kind of mishappenings.
Notifications: Gate Pass management system notifies the host about the visitor's arrival by notification with his details and timings. Only upon the host's approval, a visitor or vehicle is allowed entry.
In & Out Time Recording: Records accurate in & out visitor timings of the visitor to optimize organizational processes.
Real-time Reports: Generates real-time web-based reports, which are accessible anytime, anywhere. Further, these reports can be accessed, analyzed, and then can be used to take some crucial decisions.
NOW, Knowing who is within your premises, for how long, for what reasons, and when they leave can help you maintain the security and safety of personnel and visitors. To avoid mishaps, many organizations have implemented visitor management systems while still many businesses, schools, and healthcare facilities still use a paper logbook to sign in visitors, These raises concerns of privacy, security, legibility, and accuracy.
Read: Workflow of One Stop Gate Pass Management Software
Few reasons to opt for a cloud-based Gate pass Software/visitor management system
1.Lower Costs -Organizations can save an enormous amount on infrastructural costs with onestop Global cloud-based gate pass management system. The web-based application can eliminate the need for dedicated servers and system-specific hardware, cabling, etc. Thus, reducing capital expenditures. Instead, the costs fall into the category of operating expenses.
2. No New Hardware – With a cloud-based visitor management system, there is no need to install new hardware. Cloud-based systems run in a browser window, meaning that your existing user machines can be used regardless of whether they are Macs or PCs.
3. No Maintenance – The cloud-based visitor management system does not require on-site maintenance, no special efforts are needed for the maintenance of the whole system.
4. Faster to install – Gate Pass system is fast and easy to install, as no dedicated server needs to be configured. So, integrating it into new or existing systems takes no time.
5 Faster and Easier Updates – Software updates to the gate pass management system are scheduled and implemented in advance by OneStop Global timely. So, this frees up your internal resources. The company also takes care of backup, recovery, and data redundancy. New features and updates are automatically applied to the software. Also, no downloads are to be done by the organization.
6. Data Security – One-stop global gate pass management system stores data securely, with numerous backups to ensure that third-party information is securely stored and remains confidential. Settings are done to ensure that only management of the business is granted access to visitor data, which can limit the possibility of misconduct.
7. Real-Time Watch List Information – OneStop Global Cloud-Based Gate Pass System constantly updates lists, on a local server and/or on several local servers across multiple locations. Actually, a cloud-based visitor management system offers amazing timesaving and security benefits for multi-location facilities, because they are able to enter a watch list entry just once and deploy it across all locations, in near-real-time.
8. Faster Communication – If an offender enters your premises or tries to gain access, a cloud-based system can immediately send alerts through text (SMS), email, mobile push notifications, and web-based push notifications to the listed recipients, such as first responders or security personnel. This can significantly reduce the amount of time it takes to act on a situation. It can also keep the rest of your staff safe until help arrives. It clearly increases the security of the people as well as the business.
9. Access Data Anywhere. The data entered into a cloud-based visitor management system can be accessed anywhere and on all types of devices such as laptops, computers, tablets, and mobile phones.
10. Integration with other Security-related systems – A cloud-based system can typically integrate with other technology-based systems very quickly and easily. For example, facial-recognition cameras, door-locking systems, access control systems, sirens, signage, etc. can be integrated with cloud-based visitor management systems whereas older, server-based systems are arduous or impossible to integrate.
So, to increase the safety and security of your premises, a cloud-based gate pass management system is a must. It also decreases the efforts plus saves money for businesses.