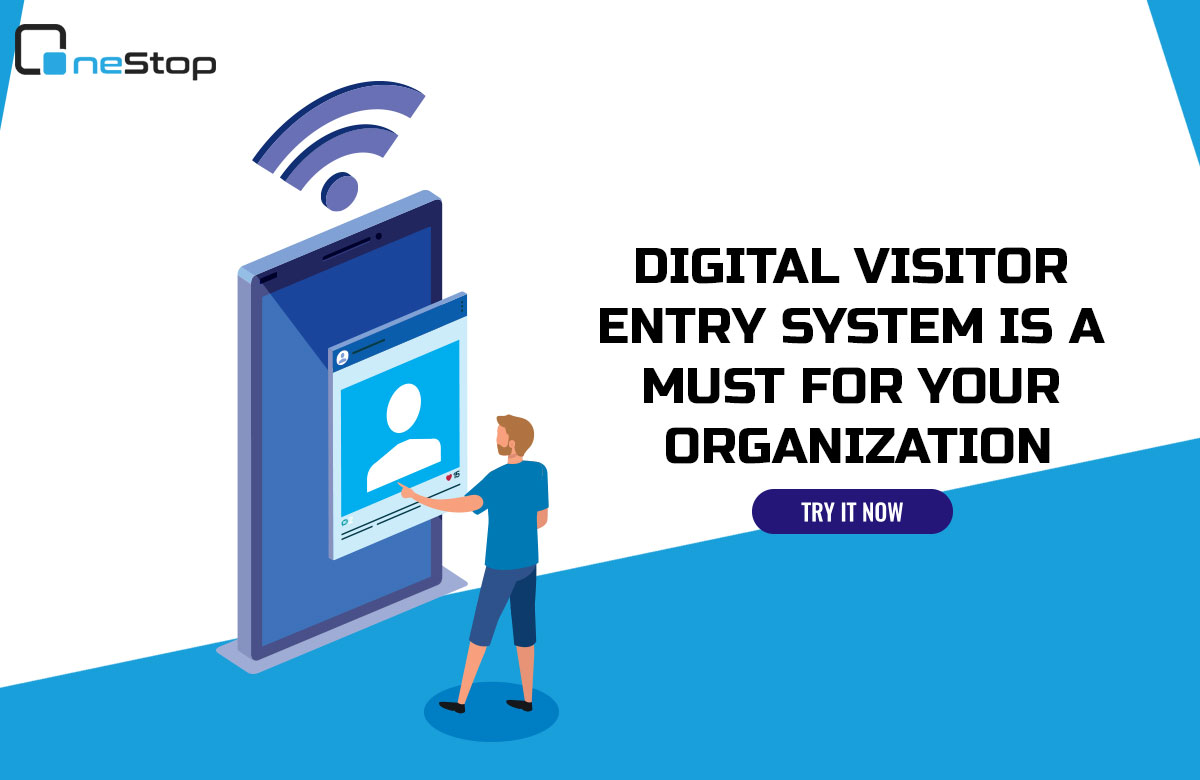 January 19, 2023
Why digital visitor entry system is a must for your organization?
Need of Digital Visitor Entry System!
With a digital visitor entry system, you can benefit by replacing all your sign-in sheets with digital visitor logbooks. Digital visitor management systems handle guests as effectively and efficiently as possible by keeping track of guests, notifying hosts, checking watch lists, and scheduling visits. You benefit from a quick, simple, and secure guest check-in registration process as a result. By making new visitor registration in your electronic visitor sign-in system as quick and easy as possible, the electronic guest management solution module, which was created with the customer in mind, is specially designed to fulfill the visitor management system requirements.
Reasons to have a Digital Visitor Entry System
Ensures Security –
One of the main reasons that identification and visitor monitoring should be employed is the requirement to protect the privacy and security of the organisation. As the initial line of security vs any potential outside intruders, the electronic sign-in system can be used. This technique prevented unwanted guests from entering.
Professional business process –
By removing any needless waiting time required to find the guest, a visitor management system can considerably streamline and expedite the check-in procedure for visitors. Additionally, a visitor's perception of assurance and trust in the organisation as a whole is increased by the greater level of organisational security displayed by adequate visitor information validation and safeguards to preserve visitor details' confidentiality.
Guest security compliance –
A system for digital sign-in and sign-out can help your business fulfill the rising need for honest information while also assuring adherence to security procedures. Electronic staff sign-in systems can be configured to include a guest privacy statement for acquiring visitor affirmation with specific terms, situations, and regulatory issues of your organisation during the preliminary check-in process, in addition to helping to create a more effective visitor management experience.
Visitor information confidentiality maintenance –
A more secure method for tracking and identifying visitors is an electronic visitor program that smoothly and digitally records the visitor's data. It assists in protecting visitors' privacy and keeping their information hidden from other guests. Utilizing a QR code for sign-in will enhance visitor privacy.
Touchless sign-in procedure
The visitor registration process is automated and simplified with the use of an electronic sign-in/sign-out system, which improves efficiency. A Code generator can be used to rapidly and easily electronically record visitor data that can then be entered into visitor identity management. Touchless check-ins give guests a substantial experience while assisting in the prevention of virus spread.
Digital Visitor Entry System Improves security
When a business collects visitor data via a manual system. The guest physically enters this data by hand into visitor log books, where it is usually written in sloppy handwriting that is difficult to search and track. In essence, this gives an illegal intruder full rein to enter the entire building!
Conclusion -Digital Visitor Entry System
A Gate Pass Software/ visitor management program acts as the organization's first line of protection in terms of security, shielding it from any expensive loss of valuable man-hours. The digital visitor management system aids your organization's wise and digital development. Simply transition to an online visitor management system from a manual one.