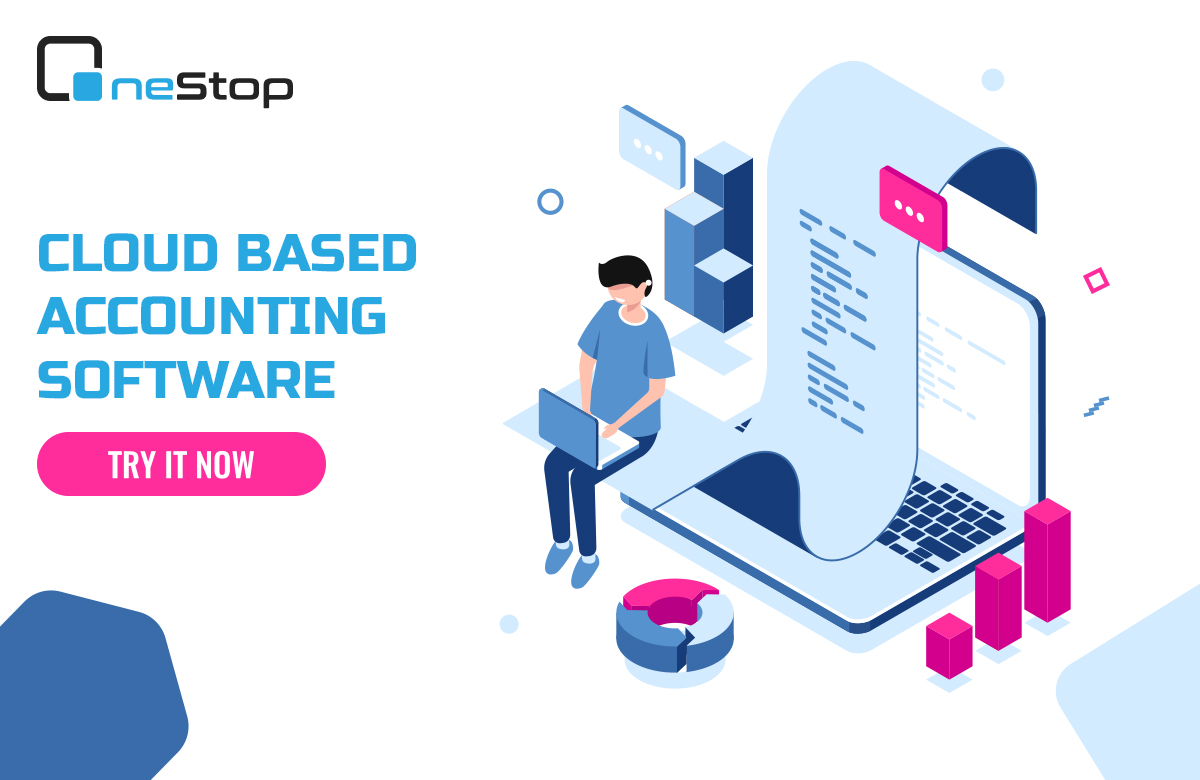 July 27, 2022
Benefits of OneStop Cloud Based Accounting Software
Bookkeeping/accounting is tedious and creating financial reports through the traditional ways is quite displeasing. To make the process easy, small and medium-sized businesses or even individual owners should opt for cloud based accounting software also known as online accounting software. It makes all the accounting processes smooth, easy, faster, and accurate and saves a lot of time.
BENEFITS OF CLOUD BASED ACCOUNTING SOFTWARE- ONESTOP
GST COMPILATION – Compiling GST with every transaction is a lot of work, so is often ignored by many. This leads to a lot of pending work but with onestop cloud-based accounting software, GST is applied to every invoice seamlessly and is synced with the GST portal. Hence a lot easier and makes you anytime ready to file a return.
AUTOMATION – When accounting is done manually or on the traditional software, you need to chase the invoices now and then. But by using cloud based accounting software, the whole process becomes a lot easy as one stop cloud based accounting software automatically generates notifications for invoices as well as sets the reminders from time to time or at regular intervals. In addition, one does not need to keep track of debtors. For example, combining payroll applications with the software will automatically generate the pay slips.
WORK FROM ANYWHERE – For Online accounting software you just need an internet connection and the financial and accounting statements of the organization can be accessed anywhere- be it your home, the office, or any other place. Indeed, there is no need of maintaining spreadsheets or installing the software. Just log in to the account from any device like a mobile, laptop, computer, etc. and you can look at the financial statements/reports anywhere.
Also Read: OneStop Accounting Software for Small Businesses
VALUE FOR MONEY AND ENERGY – Instead of appointing an accountant or paying a huge sum for the installation of accounting software, onestop cloud-based accounting software helps you to distribute the cost monthly, thus helping you in managing the cash flow of the organization. It also saves human efforts and errors thus saving a lot of energy by simplifying things.
EASY TO USE – Online accounting software is specially designed keeping a layman in mind. OneStop Accounting Software is quite easy to use and guides you at every step. Therefore, one does not need special knowledge in accounting and finances to maintain the financial records of the organization. Anyone can use this software and can understand various reports and statements.
ACCESS TO MULTIPLE USERS – The Cloud based accounting software let you provide access to multiple users. In an organization where work is done with the efforts of multiple people, and the same information is needed by different people, online accounting software helps. It makes the process quite hassle-free. A person just needs to add multiple people to the account and information is ready to be used by them.
IMPROVED AND UPDATED INFORMATION – Automation of bank feed in the billing software helps in keeping the records and maintaining the track of the organization's balance sheet in real-time. One can view updated reports and charts to glance at the current business finances.
Also, the onestop online accounting software is constantly updated by the in-house developers that you don't need to call someone or do large efforts for its update, which saves time, money, and lots of human effort.
SECURITY – The cloud-based accounting software saves data on a highly secured cloud server and is constantly backed up. So, even if the computer or main device gets destroyed or crashed, there is no need to worry as every single detail is saved on the cloud. Also, there is no fear of the data being hacked as the data is highly secured on a cloud server.
EASY COORDINATION – By sharing the account details with your accountant, you can easily coordinate the day-to-day update in the finances. Also, you don't need to call the accountant at the end of the year and give information at the end with lots of pending work and workload, as your financial books are maintained regularly.
VIEWING REAL-TIME DATA – One Stop Cloud based accounting software links you and your business bank accounts and keeps you updated with the inventory, sales, and expenses regularly. That means you can view the data in real-time.
Read: Why Online Accounting Software is better than Excel
These are just a few of the benefits of OneStop online accounting software and they are enough to make you shift from all those traditional methods of accounting to cloud-based accounting software. Overall, online billing and invoicing software simplify the process and makes the work easier and more pleasing. Also, saves pendency and a lot of time.