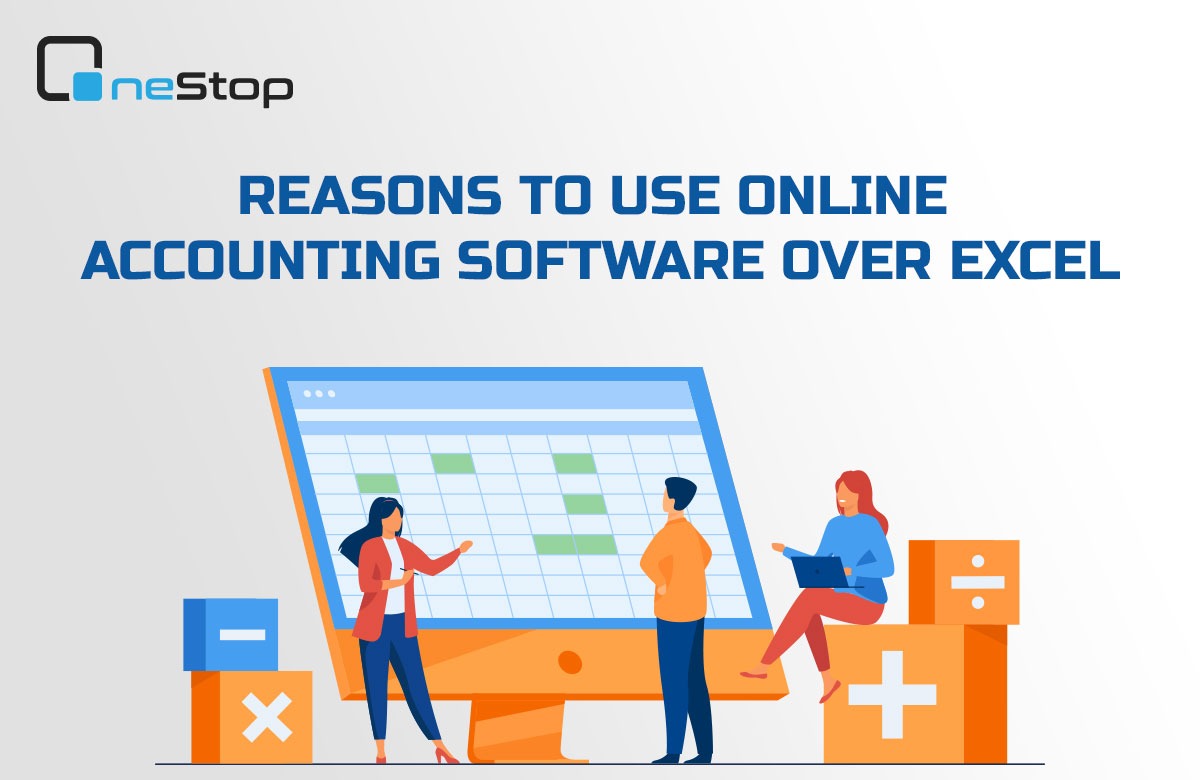 June 24, 2022
Why Online Accounting Software is better than excel?
Excel for bookkeeping is the easiest option, as it provides all the free tools, one needs to keep track of personal finances, income, and expenses. However, is manually plugging in your day-to-day business transactions really the best option? No! Thankfully, there are plenty of accounting softwares available that can automate the bookkeeping process and
can save your time. Moreover, if the accounting software is cloud-based or online accounting software, it is like a cherry on top.
The online accounting software provides you with a personalized and customized solution to manage business finances.
Reasons to use Online Accounting Software over Excel
Excel spreadsheets can only be used, for basic accounting like tracking your income and expenses, organizing and categorizing transactions, and keeping up-to-date records of the invoices you send to clients. However, for all this too, you need a template that includes a transaction sheet, a chart of accounts, and an income statement sheet.
Moreover, one needs to manually input the data, which is a time-consuming process. In addition, it is difficult to keep track of, all transactions, particularly if your business expands. Therefore, the best is to invest in online accounting software.
The Online accounting software makes accounting easy and error-free. It provides professional and personalized assistance, as well as insights into your business performance. Here are some of the benefits that make cloud-based accounting software a better choice than excel.
Cloud-Based Accounting Software Over Excel
Excel Is Complicated than Accounting Software – Excel sheets are complicated. There are hundreds of formulas in excel and they are not easy to execute. Moreover, entering these formulas manually leaves a high chance of error. Whereas in accounting software this work is automated making accounting error-free.
Excel Sheets Have No Audit Trial -Excel sheets can be edited multiple times and there is no historical record of the one who has made changes and when the changes were made in it. Also, hunting down information about a transaction that has taken years ago in it is a task. So, all these can lead to mismanagement of companies' valuable data and the loss of millions before even, you know it.
Whereas in online accounting software, a business can provide access to the designated users, and whenever anyone makes any changes the whole history is recorded. So, minimum chances of fraud and losing valuable data.
3. Making Excel Sheet Is Time Taking – Time is money! That is the fundamental rule of business. And, putting all transactions, and information in the correct format in excel or spreadsheet according to the company's financial needs, making it error-free, working on formulas and calculations requires a lot of planning and time. Also, the accountant should have mastery of excel to improve the record-keeping of invoices and expense reports. Therefore, maintaining all transactions in excel is tedious and time-consuming. Whereas, the online billing accounting software helps in easy accounting, and one can get all the estimated results quickly.
4. Low Compatibility– Managing accounts in excel /spreadsheets means having a different sheet for each account and having a massive amount of data like that can lower the system performance. Sometimes, this can even lead to system breakdown. Moreover, an excel sheet does not integrate a few applications like inventory management, so you need a different platform for that. Whereas in online accounting software, data is on the web or cloud. So, system performance is never hampered. Also, billing and inventory management is integrated into cloud-based accounting software.
5. Excel Is Not For Collaborative Work – To make future business plans and forecasts, yearly financials reports, budgets, and expenses, businesses need to compile data from different departments. And, all this data is shared via mail, in an excel sheet. Each excel sheet has the personalized touch of an employee who has designed the sheet, which makes it difficult for other employees to take over the sheet and understand the thought process of the sheet's design. So, consolidating data of all these sheets is quite time-consuming work, and every time one needs to go back and forth which looks similar.
Whereas in online accounting software, the designated people and department can enter, the details timely and the reports can be generated automatically anytime. Why you should use Online Accounting Software? In the above-mentioned list, we have discussed the pros and cons of using excel and online accounting software in business and how they can impact the business. Even, a small mistake in accounts can cost you millions. So, to make sure your business grows without error, business accounting software is a must.
Read more on tips and processes to choose an accounting software online here.
Cloud-Based Accounting– Cloud-based OneStop accounting software is easier to access from anywhere in the world. You can check real-time data and even make required changes through a shared system. Also, you can sync and integrate data from multiple devices.
Automated Billing Procedure -The accounting software has an automated billing feature, so it decreases the scope for error. As the quote goes by "to err is human" and that is why machines do not make mistakes. The computerized automated billing process decreases mistakes and the workload on the accounting team.
Range of Features- Online accounting software can make automatic invoices, inventory management, and purchase contract.
Compatible and User-Friendly- The analysis reports, expense and annual financial reports, and charts can be easily made with accounting software. OneStop accounting Software has easy to use interface, so anyone with basic knowledge of accounting can easily manage their financades. Also, you can manage the accounts even on your smartphone on the go.
Conclusion
In this article, we have listed enough reasons why businesses should use online accounting software over excel. No doubt, excel is free for managing the accounts of a small business but an online accounting system has several more advantages over it. Additionally, it also helps you to analyze and grow your business.