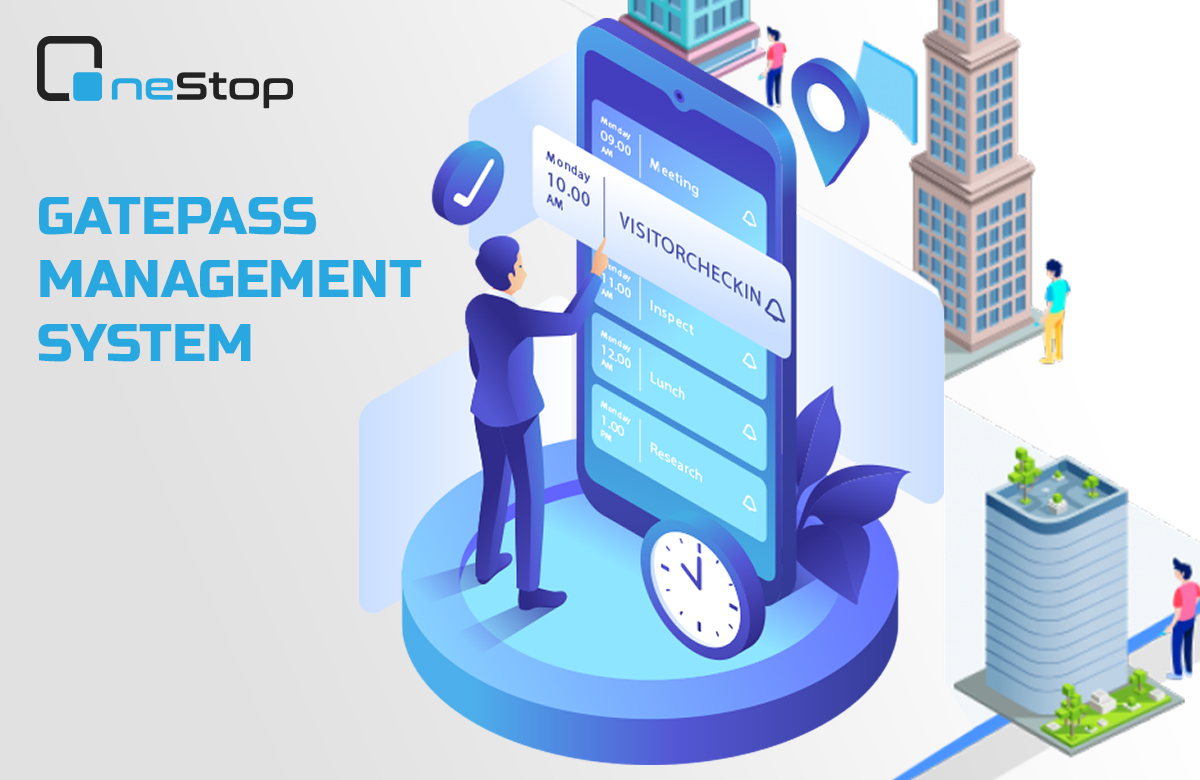 July 14, 2022
Improve the Visitor Security with GatePass Management System
As the Covid-19 situation has eased a bit in our country, many companies have called back their employees to their beloved workplace. If not completely, many companies have switched to the hybrid model too. This means that the employees are spending around two to three days in their office per week. However, whether it is a few days or a whole week, the most prominent factor is the safety and security of every employee at their workplace. If your workplace is secured, it lets you feel safe every second and enhances your productivity. For this, many companies ensure that they have a GatePass Management System. It gives employees a comfortable feeling because it lets them decide who can come to them or enter their office.
Unlike the unorganized workplaces where anyone can reach an individual physically, and god forbid, any mishap can occur, on the other hand, most companies and organizations have adopted the Visitor Management System. Well, everything comes with its pros and cons. It is undoubtedly a safe and sound system that ensures 100% safety, but if your guest is new to this system, they might be irritated by it. However, this enhanced system does everything from visitor information to their accurate track record.
Ting-Tong! You know who it is – As the Visitor Gate Pass System will notify you first on who is seeking your approval to enter the company premises, no unknown person can just come to you. With this system, many mishaps and crimes can be prevented.
No criminal activities – When you ensure that your workspace has a proper Gate Pass Management System, there are very brisk chances of thefts, robberies, or other malpractices. This is because this system ensures that people belonging to that particular place are present, and no other unwanted or suspicious individual is there.
Accurate track record – If any unusual activities occur, the track record maintained in the system can help the concerned authorities retrieve the essential data. This is because it records accurately in & out visitor timings.
Be ever-ready with proper notifications – As you are notified every single time one wishes to come to your abode/workplace, this facility gives you a time frame to make all the proper arrangements beforehand only. You do not want your workplace to be messy when you know someone special is just arriving.
Advanced Control with Visitor Access: One prominent positive feature of the Visitor Pass Management System is easy to control. With this, you can enroll a visitor's credentials and permit them to access only selected areas.
On the other hand, one of the cons witnessed in this Visitor Pass Management System is that it also results in unnecessary clashes. Many people who work in unorganized companies face this issue when they visit someone who works at a company that has adopted this Visitor Management System. Moreover, as the verification and approval take a little time, people become impatient and often enter into unnecessary arguments. Little do they know that this verification step is mandatory.
Modules of Gate Pass Management System
Officially, this gate pass management system has three kinds of modules.
Admin Module: This module is installed for the administration of the workplace. It defines and records the host details, sets gate pass formats, and even generates reports.
Host Module: This module is for the employees to keep a tab on the visitor details. The host further can send the response to the safety gate staff.
Security Gate Module: This module is deployed at the entrance area of the concerned premises. It facilitates the staff at the security gate to register the visitors' details with a picture. And further notification is sent to the host.
Read – Workflow of OneStop Gate Pass Management Solution and the benefits of cloud based gate pass management system here.
However, the requirement of a GatePass Management System varies from place to place. Designed to address the safety of physical, intellectual, and human assets, it is no doubt a professional and systematic method. What is more remarkable about this system is that it does not compromise security, hospitality, and productivity.